" Invariance contre grammaticalisation : à propos des variations dans le champ de la condition "
This paper deals with the diversity of forms that can be used to express conditional relations in French, in particular nominal locutions and temporal expressions. To account for these forms, some configuration is being proposed which characterizes conditional sentences in their variety, and which can be described as an invariant, in the sense given to the concept of invariant by Antoine Culioli. Whereas theories of grammaticalization explain variation by universal cognitive characteristics of human beings, the explanation developped relies on what makes this very configuration ambiguous as regard to the referential entities involved (facts, situations, properties, propositions, singular or generic ; endings, purposes, telos, temporal or causal consecutions). Instead of what Meillet described as a search for expressivity, it is the process of explicitation, needed to reduce ambiguity, that is shown to be responsible for the forms investigated ; this process refers to metalinguistic activity, which is rather named here epilinguistic activity, in reference to Culioli's description as being constitutive of language activity rather than external, and as involving indefinite approximations rather than mere duplication.
On s'intéresse à la diversité des formes pouvant servir à exprimer une relation conditionnelle en français, et plus particulièrement aux locutions nominales et aux tournures temporelles. Pour en rendre compte, on s'appuie sur une analyse de la configuration propre aux énoncés conditionnels dans leur variété, configuration qui est en elle-même invariante, au sens qu'Antoine Culioli donne au concept d'invariant. Quand les théories de la grammaticalisation se fondent sur des universaux cognitifs relatifs aux sujets parlants pour expliquer la variation des formes, on invoque l'ambiguité de la configuration conditionnelle elle-même, relativement aux objets référentiels que celle-ci mobilise (faits, situations, propriétés, propositions, singuliers ou génériques ; fins, finalités, telos, suites temporelles ou suites causales). A la recherche d'expressivité évoquée par Meillet, on oppose un travail d'explicitation que cette ambiguité appelle, qui se rapporte par conséquent à l'activité métalinguistique du locuteur, activité appelée ici épilinguistique à la suite de Culioli, pour marquer qu'elle est non pas externe mais constitutive de l'activité de langage, et qu'elle procède par approximations indéfinies plutôt que par recouvrement.
Fichier principal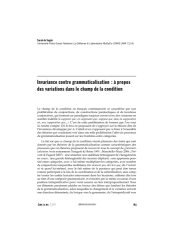 Invariance contre grammaticalisation.pdf (308.67 Ko)
Télécharger le fichier
Origin : Publisher files allowed on an open archive