Climate change and water resources in the Himalayas
In the Himalayas, where the increase in temperatures is higher than the world average, climate change is expected to impact water resources in a particularly significant manner. Whereas climate specialists using measurements and simulations play down this statement by underlining uncertainties and differences between the west and east of the range, the media and development agencies tend to paint a uniform picture of a water shortage now and in the future. As part of an interdisciplinary programme (glaciology, hydrology, agronomy, geography) in the Koshi basin in Nepal, we discuss these remarks, while stressing the need to distinguish between situations according to the geographical units and to take into account the cultural, social and economic context when addressing this subject. The investigations that we carried out at four fieldwork sites, which are representative of Nepalese milieus, aimed to find out whether populations noticed any variations in water resources that affected their practices (farming, livestock breeding, tourism) and if they attributed them to climate change. Our results show contrasting situations and changes in practices with no obvious connection to the climate. Among other things, they provide information about snow, a parameter that has been measured incorrectly and underestimated in simulations, and they show that populations are more affected by fluctuations in rainfall patterns than by the melting of glaciers and the snow cover. Lastly, they highlight the geographical units and population groups most likely to be affected by climatic variations.
En Himalaya, où la hausse des températures est plus élevée que la moyenne mondiale, les répercussions du changement climatique sur la ressource en eau devraient être particulièrement importantes. Tandis que les spécialistes du climat utilisant mesures et simulations nuancent ce constat en soulignant incertitudes et différences notoires entre l'ouest et l'est de la chaîne, médias et organismes de développement tendent à donner l'image uniforme d'un déficit en eau actuel et à venir. Dans le cadre d'un programme interdisciplinaire (glaciologie, hydrologie, agronomie, géographie) sur le bassin de la Koshi au Népal, nous discutons ces propos en montrant la nécessité de distinguer les situations en fonction des unités géographiques et d'intégrer dans les approches sur ce sujet le contexte culturel, social et économique. Nos enquêtes, réalisées sur quatre terrains représentatifs des milieux népalais, ont eu pour objectif de savoir si les populations constataient des variations de la ressource en eau affectant leurs pratiques (agriculture, élevage, tourisme) et si elles les attribuaient à des changements du climat. Nos résultats montrent des situations contrastées et des changements de pratiques sans relation évidente avec le climat. Ils apportent, entre autres, des informations sur la neige, paramètre mal mesuré et sous-estimé dans les simulations et montrent que les populations sont plus affectées par les fluctuations des régimes pluviométriques que par la fonte des glaciers et du manteau neigeux. Enfin, ils mettent en exergue les unités géographiques et les groupes de population les plus susceptibles d'être affectés par des variations climatiques.
Fichier principal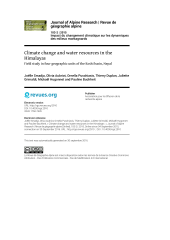 rga-2910.pdf (1.3 Mo)
Télécharger le fichier
Origin : Publisher files allowed on an open archive